The circuit was well and live this past weekend as Nike, Under Armor, and Adidas had sessions. A lot of known players came to play and some under the radar guys rose to the occasion. Anthony Forrester takes you on a recap of this eventful weekend.
1) Ian Jackson – 6'5", 180 – Guard – Wiz Kidz(3SSB) – Class of 2023 – Ian Jackson is the No. 2 overall prospect in his class and he lived up to the ranking. Ian impacts the game on both sides of the basketball with his energy that compliments his overall game. His athletic ability allowed him to be dominant in transition which opened other areas of his game which made him a tough cover. Ian can score the basketball off the dribble as well as catch and shoot which makes him such a threat on the floor. In his Spartanburg debut he put up 26 points, 55% FG in a loss but showed all the flashes to be a big time player. Assistants from Kansas, Kentucky, and UCLA were in attendance.
2) GG Jackson – 6'8", 210 – Forward – Team CP3(EYBL) – Class of 2023 – Jackson is really starting to make a strong case that he is the No. 1 player in the class of 2023. He has some tricks in his bag when it comes to his off the bounce moves and shots. Jackson takes good shots and does not force the action while showing a lot of potential to be a consistent shooter from deep. Jackson's effort on the court is contagious and he brings the energy every game.
3) DJ Wagner – 6'1", 152 – Guard – Scholars(EYBL) – Class of 2023 – DJ led the EYBL in scoring this past weekend and continues to show why he is a walking bucket. DJ looks like he will be going to Louisville after high school which would be an amazing fit. DJ is a guard that can play in the ACC his play style will fit in the conference. DJ can score in an unlimited amount of ways. The flaws in his game are so minimal since his game is so legit.
4) Kaden Cooper – 6'5", 180 – Small Forward – Team Trae Young (3SSB) – Class of 2023 – Kaden started off the weekend with a 22 point outing for Team Trae Young. Kaden displayed his ability to break down the defender with his handles and finish with force at the rim. Kaden has a nice frame that allows him to score off the dribble and off the catch. Kaden's performance had his name making some noise by the end of the weekend. In attendance this weekend were head coaches from Oklahoma State, Alabama, Texas, and Auburn along with assistants from other schools.
5) Travis Perry – 6'2", 170 – Guard – Indiana Elite – Class of 2024 – Travis Perry is a point guard that plays with so much control with a high basketball IQ and a well balanced feel for the game. Travis is a very efficient player and displayed that over the weekend as well as his ability to play make for others. The Indiana Elite Guard has been in contact with Cincinnati, Creighton and a couple other schools.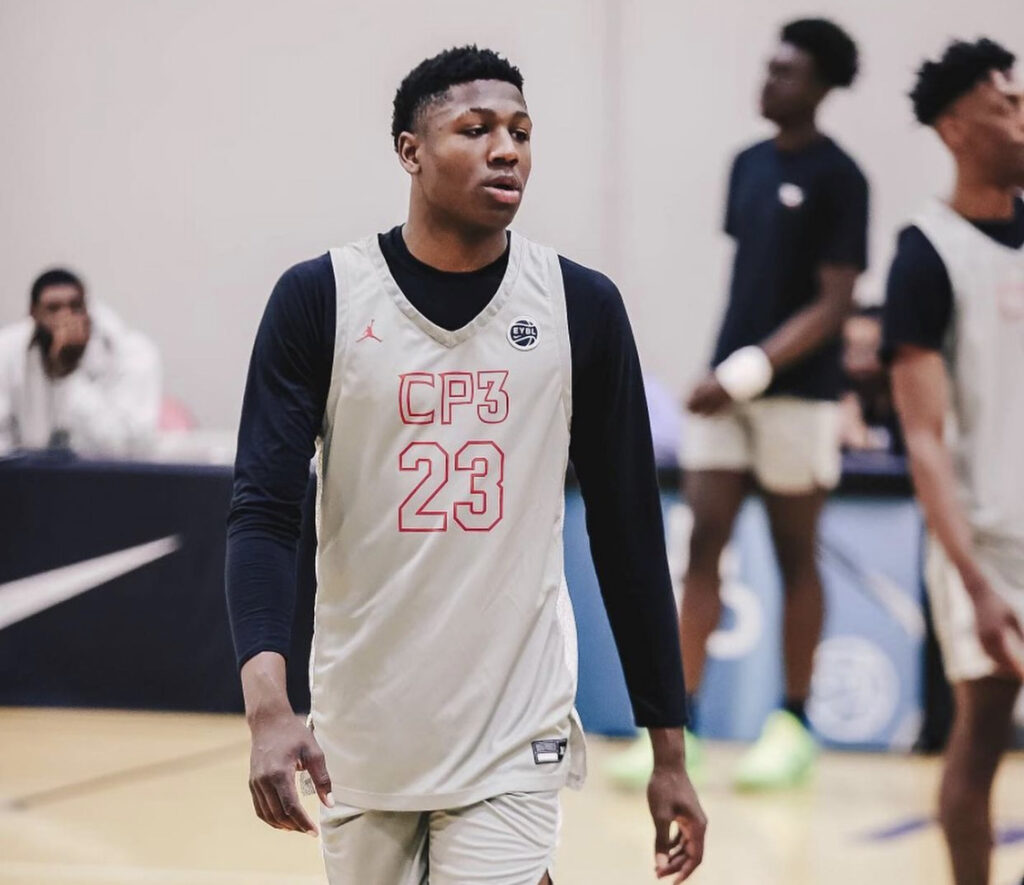 6 ) Caleb Wilson – 6'8", 170 – Forward – AE5(3SSB) – Class of 2025 – Caleb Wilson is a good prospect that is starting to pick up some buzz. The 6'8" power forward can stretch the floor with his jumper and has solid handles for his size. Caleb showed why he is such an intriguing prospect with his size and his athleticism you can see the potential. Georgia, Xavier, and Indiana are some of the schools that already have taken notice of Caleb.
7) Aden Holloway – 6'1", 165 – Guard – Team CP3(EYBL) – Class of 2023 – Aden Holloway is a three level scorer and displayed that over the weekend from the three ball, to the floater, to maneuvering through traffic to get to the hoop. Aden is a traditional point guard that commands the offense and keeps the engine going for his team. Many head coaches were on hand to see the talented guard; he recently took a trip to Knoxville for an official visit.
8) TJ Power – 6'8", 210 – Forward – BABC(EYBL) – Class of 2023 – TJ Power is a very skilled forward that is shifty and plays with a competitive edge. TJ showed his efficiency in catch and shoot while spreading the floor by hitting the 3 pointer at a high clip. TJ had a numerous number of spectators in attendance from North Carolina, Kentucky, Auburn, and Villanova.
9) Shawn Simmons – 6'5", 175 – Forward – Team Durant (EYBL) – Class of 2023 – Shawn plays above the rim and finishes everything around the hoop. It helps that Shawn has a long wingspan that is a benefit on the offensive end when it comes to scoring over players and on the defensive side when it comes to altering shots in the paint and perimeter. Shawn is a very good prospect and had some major schools like UNC, Kentucky, Auburn, Villanova, and Iowa just to name a few.
10) JP Estrella – 6'9", 210 – Center – Magic(UAA) – Class of 2023 – JP gets a lot of attention from college coaches because he plays with a soft touch around the rim. JP sets the tone in the half court set and is the leader of his team. JP's ability to make the 3 pointer has made him into a versatile player on the offensive end. Schools such as Duke, Syracuse, and Maryland were in attendance to check out JP.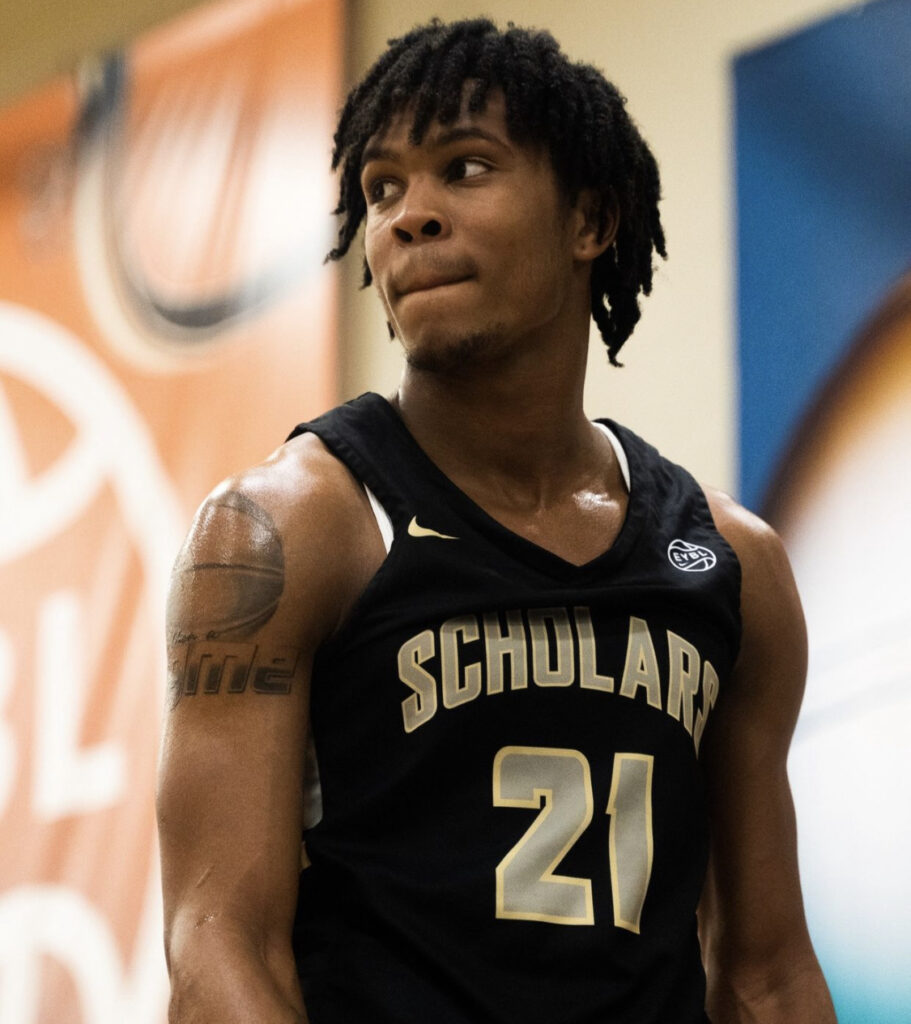 11) Stephon Castle – 6'6" 190 – Guard – Atlanta Xpress (UAA) – Class of 2023 – Stephon averaged 20.7 PPG, 5.0 RPG 42% FG 30% 3PT through four games out in Kansas City at the UAA Session II. His frame will help him as he brings the physicality when he plays which helps him when he is getting to the basket. Stephon's presence is felt throughout the game and steps up when plays need to be made. Stephon had Dan Hurley sitting courtside and it looked like he was excited to see the combo guard in action this season.
12) Freddie Dilione – 6'4", 185 – Guard – Team Loaded(3SSB) – Class of 2023 – Freddie is a volume scorer and has terrific size. Freddie is a player that has great court vision and is always looking to make a play. Freddie is a willing passer and makes the game easier for others. Freddie erupts for 28 points, 52% FG, and 44% 3PT in a win here in Spartanburg #3SSB. Three level scorer, downhill finisher, and just plays with so much confidence at the guard spot.
13) Baye Fall – 6'10", 205 – Center – Colorado Hawks(3SSB) – Class of 2023 – Baye is a big man who is athletic at the rim and has shot-blocking ability. He can defend well on the pick-and-roll and has been working on his touch. Baye scored 22 points, 15 boards, and a few blocks in a win. His length plays a pivotal role and runs the floor well for his size. Kentucky's John Calipari and his assistant were courtside to see Baye live.
14) Flory Bidunga – 6'10", 210 – Center – Indiana Elite(3SSB) – Class of 2024 – Flory is an athletic big that has a high motor and makes plays. On the defensive end Flory is blocking shots and runs the floor with the best of them on both ends. His energy when finishing at the rim has shown his explosiveness and his ability to lock up on the defensive end are huge for him. Flory is currently unranked but after this showing he will be ranked very soon.
15) Rob Dillingham – 6'2", 160 – Guard – Team CP3(EYBL) – Class of 2023 – Rob is a player that uses speed to his advantage. Rob's ability to change speed at the blink of an eye while being ridiculously quick which gave Rob a boost when getting to his spots on the court. Rob always leaves his defenders unsure of what to do because when he heats up from 3 point it opens up so much more now.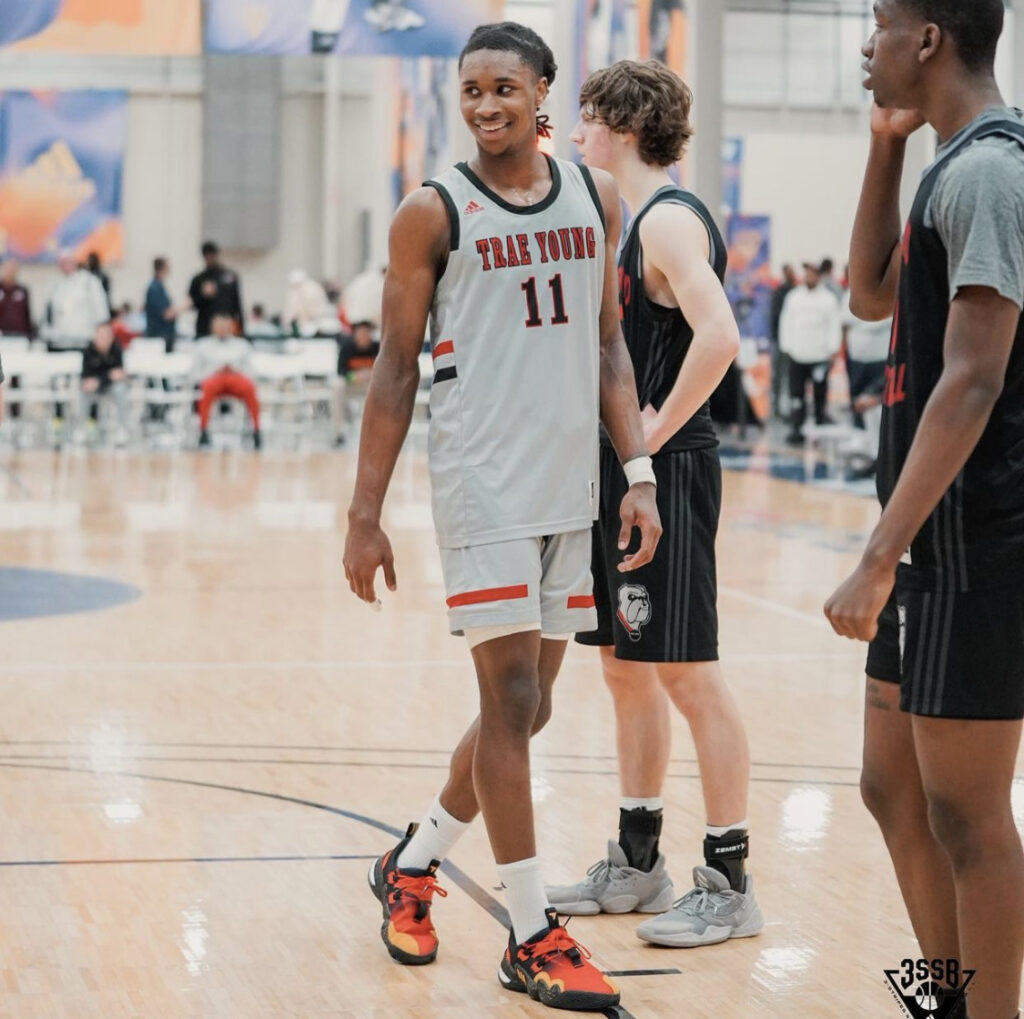 16) Derik Queen – 6'9", 220 – Forward – Team Thrill(UAA) – Class of 2024 – Derik displayed his scoring ability this weekend with Team Thrill. At 6'9" he is very mobile which compliments his footwork which is very solid and helps him finish around the rim. Derik athleticism allows him to play all over the court because he can stretch the floor on the offensive end but defensively he is switching everything.
17) Al Amadou – 6'9", 185 – Forward – Philly Pride(UAA) – Class of 2023 – Al Amadou at 6'9" has nice length and physical tools to be a player. Al is a shot blocker and makes it tough on any opposing bigs. Al will dunk on anyone under the rim. It's valid for a poster every game. Once Al develops the outside game it's going to be hard to defend him. So far Al has visited Marquette officially and saw Maryland unofficially. With other offers from schools like Miami, VCU, and Cincinnati.
18) Parker Friedrichsen – 6'3", 165 – Guard – KC Run GMC(UAA) – Class of 2023 – Parker is already committed to Oklahoma State but he has to be the best shooter in his class. Parker is an elite shooter he doesn't need much room to get his shot off while learning how to create for himself off the dribble and in different ways.
19) Izaiah Pasha – 6'5", 176 – Guard – Philly Pride(UAA) – Class of 2023 – Izaiah has good size for the shooting guard position with his ability to score in a multiple of ways. His athleticism helps him attack at the rim with some motivation. When it comes to schools looking at Izaiah they are Siena and Minnesota.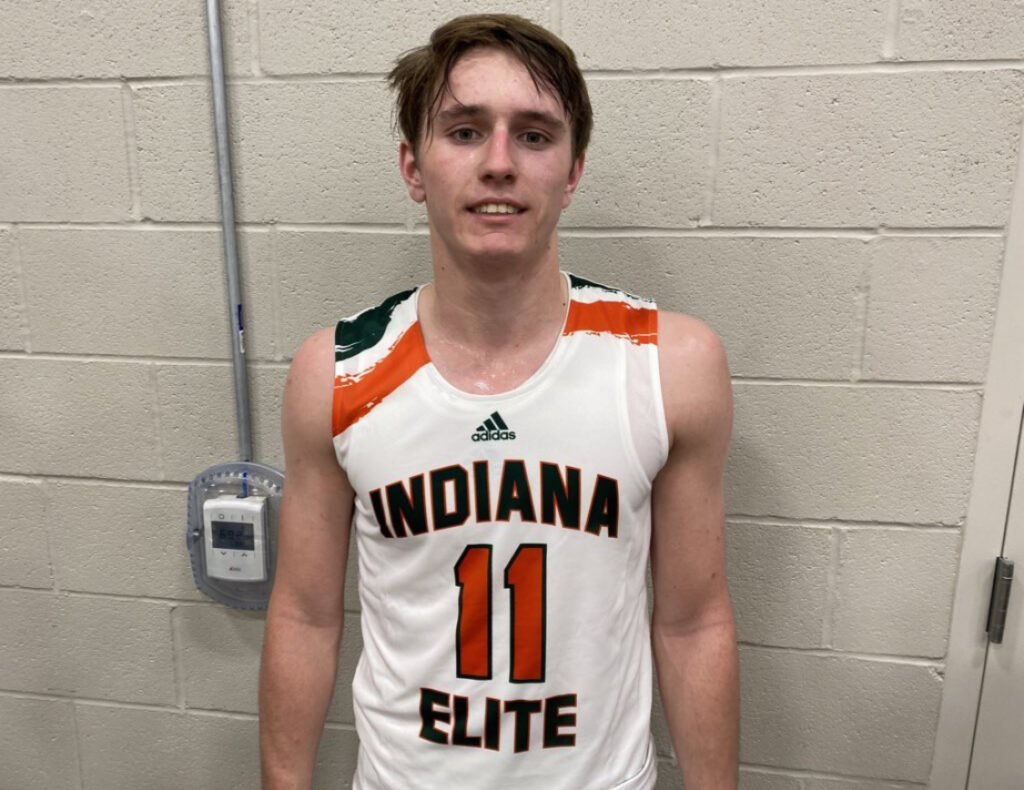 20) AJ Johnson – 6'3", 150 – Guard – Jalen Green Elite(3SSB) – Class of 2023 – AJ frame makes him a player that coaches look at with a lot of upside. AJ is a big guard with great pace and really just the poetry in motion. AJ has a solid jumper that opens up after he displays his end to end speed with the ball. LSU, Texas, and Creighton are some of the recent offers.
21) Pryce Sandfort – 6'6", 160 – Forward – D1 MN(3SSB) – Class of 2023 – Pryce was on fire from behind the line this weekend and was making shots during waves of the game. Even when the defense tried to pressure Pryce he just adapted and made better decisions in the lane and at the basket.
22) Dellquan Warren – 6'1" 160 – Guard – Wildcats Select(3SSB) – Class of 2024 – Dellquan has made a name for himself as a player who brings effort and impacts the game with his defensive presence. Dellquan is a defensive minded player and really shines on that side of the ball. Dellquan played the lane and was always ready to make a play. Dellquan attacks at full speed while he cuts through traffic to finish.
23) Malachi Palmer – 6'6", 185 – Guard – Syndicate (EYBL) – Class of 2024 – Malachi had himself a weekend out in Indy at the Nike EYBL session II — averaged 17.7 PPG 49% FG through four games. The 6-foot-6 guard has offers from Seton Hall, Texas Tech, and Kansas. The Syndicate defeated NJ Scholars behind Malachi Palmer's 27 pt performance. Malachi is a big time scorer and he shows up in big time moments.
24) B.J. Davis – 6'1", 170 – Guard – Team Griffin (EYBL) – Class of 2025 – B.J. was outstanding out this past weekend for the #3SSB. A 6'2" guard that plays with crazy speed, a shifty scorer, and crafty slithery finisher. B.J. had multiple 20-point games showing he scores when needed. B.J is a player with high level quickness that allows him to create opportunities.
25) Robert Wright III – 6'1" 160 – Guard – Team Final(EYBL) – Class of 2024 – Robert had a stellar weekend in Indy at the Nike EYBL. During the weekend Robert averaged 18.7 PPG on 51% FG and 62% 3PT while sprinkling in 5.7 APG and 5.0 RPG through four games with Team Final. Robert is a force on the offensive end when it comes to attacking the rim to score or driving to kick out. Robert is always leaving an impact on the court on both ends. Robert's ability to play with so much poise is what separates him from the rest.