The Border League ended in great fashion between Monteverde who was known as The Florida Eagles and Arizona Compass Prep in the Top Flight Division. Monteverde went on to win the championship game 80-73 in overtime.
Chris Johnson – Florida Eagles: The Kansas commit average 19.7 ppg including 58.3% shooting percentage in the three games over the weekend. He came up big in all three games and was name tournament MVP.
Tru Washington – Arizona Compass Prep: With Washington averaging. 9.3 ppg 2.7 rpg, 2.7 apg, and 2 spg; he became the leader on both ends of the court. He have his team rally around each other.
Sebastian Mack – Air Nado: Mack was the leading scorer in the tournament averaging 30.7 ppg. Mack put up big numbers in all three games and made basket after basket to keep his team in the game.
Cameron Boozer – Florida Explorers: Boozer was shut down by Arizona Compass in the opening game. However he bounce back in his last two game with outstanding performances. He averaged 17. 7 ppg and 11.7 rpg. He play big in the paint getting on the boards on both ends and getting key touches.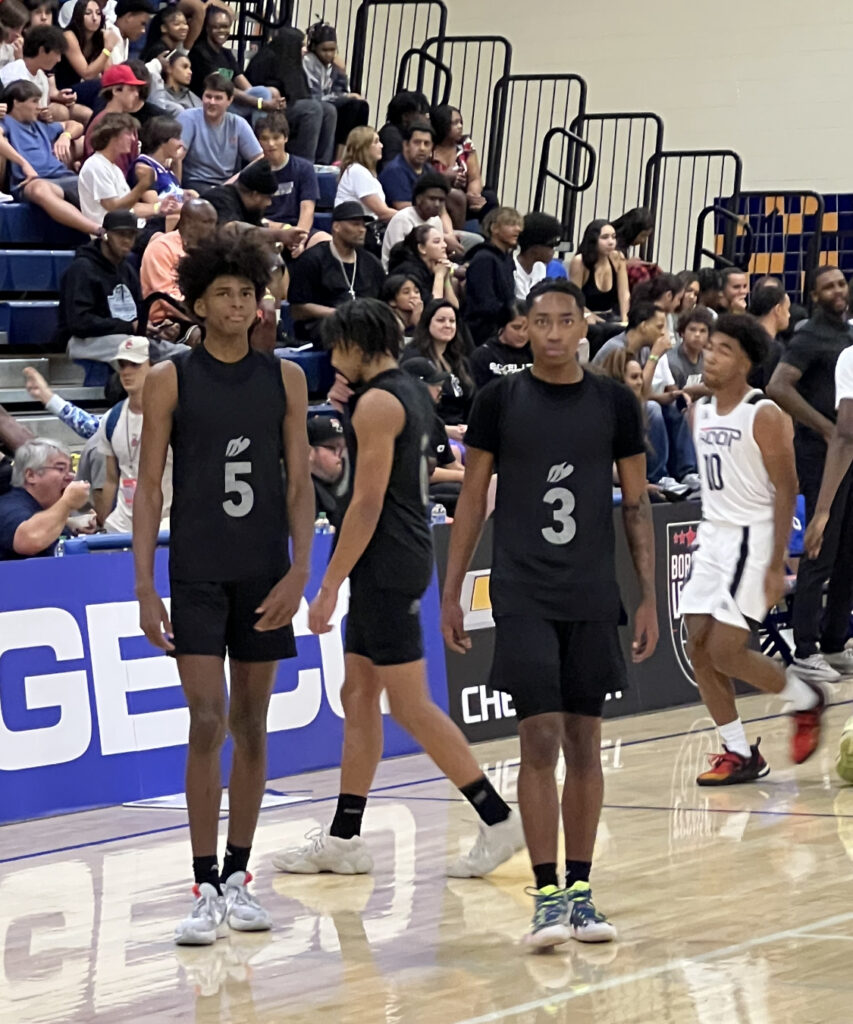 Robert Dillingham – Donda: The Kentucky commit is a playmaker and a scorer. In the two wins for Donda he took over the game making big baskets to help seal the deal for Donda. Dillingham averaged 20.3 ppg in the three games of the tournament.
Aaron McBride – Hoop Nation: McBride was a prolific scorer and help out teammates Jared McCain and Devin Williams when needed. The Loyola Marymount commit average 17 ppg in which he shot 58% from the field.
Chris Nwuli – LV Orange: Nwuli was one of the best defenders in the tournament. He averaged 9.7 rpg and 4.7 bpg in which teams had a hard time scoring off of him. He also play well on the offense by averaging 13.7 ppg.
Ashton Hardaway – CBC: Hardaway average 17 ppg, he came up huge when they needed a bucket. Also shot 50% from the field in the three games over the weekend.
Sean Stewart – Florida Eagles: Stewart was outstanding on both ends, and dominant in scoring as well as rebounding. He averaged 11 ppg and 10 rpg and shot 52 percent from the field in which he helped lead the Eagles to the Top Flight Division Championship.
Cayden Boozer – Florida Explorers: Boozer averaged 16.7 ppg and in the opening game he struggled against Arizona Compass defense. However, in the last two games he was outstanding He was able to score and make some key assist in which he average 6.7 in the tournament.