The 1989 NCAA Men's Championship in Seattle was packed with intrigue from every angle, with two Big Ten teams in the Final Four, Duke continuing their tourney dominance, and a group of NYC kids leading the 'Hall, but does SoCal basketball have a place in this historic bracket? Not on the first flashy layer. You have Blue Bloods, NYC, Detroit, and Chicago, but after peeling, you find two stand outs in Crenshaw's Finest; Stephen Thompson and Fairfax High's Sean Higgins. Both players helped to put LA-area basketball on the map in the late eighties.
When the Big Dance tipped off at 12:07pm ET with LaBradford Smith and "Never Nervous" Pervis Ellison leading Louisville over Arkansas Little Rock; the tournament was being discussed more for what was missing than what was included; no 1988 National Champion Kansas Jayhawks after another walk-off in the career of Larry Brown and sanctions that followed, no Kentucky, and no Bill Freider(who Bobby Knight once called "a chicken (bleep) SOB" in 1984); who was out at Michigan after unceremoniously accepting the head job at Arizona State University causing Bo Schembechler to fire him and hire Steve Fischer.
First Round scares aplenty included one-point wins for 'Zo Mourning's 1-Seed Georgetown Hoyas and 1-Seeded Boomer Sooner lead by Stacey King and Mookie Blaylock. One team and one star that did not struggle in the preliminary round was the 'Cuse and Stephen Thompson; beating Bucknell 104-81. Thompson had 21 points on 8-12 shooting, 4 rebounds, 4 assists, and 3 steals. He would go on to have 21 points again in the Round of 32 victory over Colorado State on 9-11 shooting and followed that up with 11 points and 3 steals in a 83-80 nail-biter versus Mizzu and Doug Smith in the Sweet Sixteen.
Syracuse's run ended with a 89-86 loss to high-flying Midwest Region Champs, Illinois; who were led by clutch performances by all their stars; Kenny Battle with 28, Nick Anderson with 24, and Kendall Gill with 18. Thompson played all 40 minutes and scored 17 points and pulled down 6 boards. For Thompson, it capped his best overall season of his outstanding collegiate career; 18 points a game, 5 rebounds, 2 assists, and 2 steals.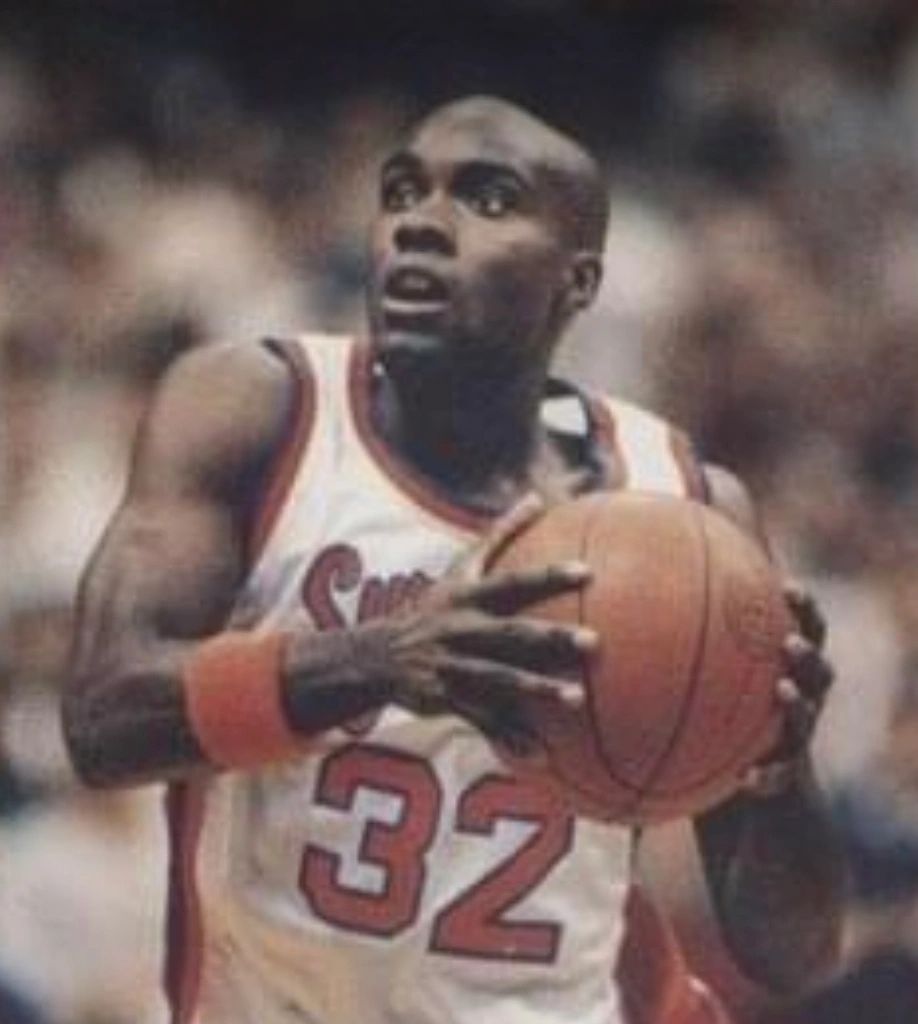 Stephen Thompson's number 32 jersey is retired at Crenshaw High. He joined a group of players at Crenshaw that included the all-time great UCLA Bruin and 5-time NBA All-Star, Marques Johnson and the underrated John Sam Williams, who was a skilled passer at 6-8, 250-ish pounds. Thompson growing up in South Central LA had more of a passion for baseball than basketball. As a 9th grader, that changed, as he watched the Final Four and Houston vs Louisville. He was amazed at the above the rim game of Olajuwon, Drexler and Houston's Phi-Slama Jama and the McCray brothers for Louisville.He also watched John Sam Williams play for Crenshaw against Banning High at the Forum and fell in love with Crenshaw, along with their legendary coach, Willie West.
Convincing was needed for his mother to let him go to Crenshaw.after 9 years at private school. He was ruled ineligible for varsity his sophomore year(LA Unified High School ball started in 10th grade then) because of a residence issue, but worked on jumping rope and the leaping machine at school while a member of the JV squad. At one point ,Thompson had a measured vert of 44 inches. He used that ability to attack the basket during his junior year on varsity and led Crenshaw to a pair of state 4-A championships his junior and senior years, while averaging 28 and 34; respectively. During his junior year, the team was #1 in that nation and was the '1985 World Champs'. He was a two-time 4-A City Player of the Year and was the California State Player of the Year during his senior campaign.
At Syracuse, Stephen spoke softly and carried a big jump to the Big East. After watching Pearl Washington keep the ball attached as an appendage, he hoped he would be able to play with Pearl as a freshman (that did not come to fruition). He signed his letter of intent at 16 and broke in as a 17-year-old freshman with and helped Syracuse with Derrick Coleman to the title game versus Indiana. They were beat 74-73 on Keith Smart's last-second shot. He was 2-time honorable mention All-American and was also Big East Scholar Athlete of the Year. He teamed with Sherman Douglas to crush the alley-oop game. He left as the school's 4th all-time leading scorer not leading the team in scoring any of his four years. He also excelled on the biggest stage; shooting 68 percent in 15 tournament games.
Another Los Angeles story began by way of Detroit, Michigan. Sean Higgins was born in Detroit December 30th, 1968. He grew up in the shadow of the "Big House" at Ann Arbor, Michigan. He was a football kid until 9 years old, when he learned of his Dad's decorated career; he was an All-American baller at Eastern Michigan. Sean moved with his Mother and his Great-Grandma to Las Vegas when he was 11 and played on a traveling team with Greg Anthony. He moved from there to SoCal.
Once in Los Angeles, Sean had to prove himself and did so through hooping. Unlike Thompson, Higgins liked to talk tons of trash. He was being actively recruited by numerous high school teams across LA. With his Mother's help, he settled in at Fairfax High School just south of Hollywood-proper. At the time; Fairfax was known as an liberal arts school or as Sean called it "a theatre school". He claims that he almost went to Crenshaw to join Thompson, but had to take 3 buses. According to Higgins, Fairfax Head Coach Harvey Kitani "snitched on him for busing to Hamilton" and he ended up at Fairfax and missed out on playing Thompson twice a year. He was an McDonald's All-American, City Player of the Year at 15 and had his choice of Louisville, Kentucky, Texas, UCLA, and Michigan.
Higgins' Stepfather was allegedly taking payments from UCLA and according to Sean in an article "Signed, Sealed and Sorry" in the February 23rd, 1987 Sports Illustrated, also on signing day moring, the 6-9, 250 pound Clifford Benson-Bey "…struck him during a quarrel early that morning, after he made clear his desire to attend Michigan. Higgins contends that he signed the letter(to UCLA) against his will, only after Clifford Benson-Bey had menaced him with a baseball bat." Higgins was let out of the letter and then allowed to choose another school, which was Michigan. And the desire to go back to his roots and get away from the disaster that was his life now in Los Angeles brought him back home. He also says winning drove him there as winning drove him he at Fairfax, but history does show his and fellow McDonald's All-American teammate Chris Mills' #2-ranked(in the nation) Fairfax High team did get bounced from the State playoffs 46-42 by Santa Ana Mater Dei lead by Thompson's future teammate at Syracuse; LeRon Ellis.
Once back in Ann Arbor, Sean started his Michigan career on a sour note as he was ruled academically ineligible after 2 games into his freshman year. During 1988-1989, Higgins started 16 games and averaged 12.4 points with a 50% field goal percentage, including 46% from 3 point land. Once Fisher took over the team for the tournament, he had Higgins come off the bench. Higgins scored only 7 points in a First Round win over Xavier, and 6 points in a Second Round win over South Alabama. He came alive in the Sweet Sixteen with 14 points with 2 three pointers and 3 assists in a 92-87 win over North Carolina.
The height of Higgins career was upon him as he completely broke out and drained 7 threes and 31 points in only 20 minutes in a blowout 102-65 win over Virginia(who featured John Crotty and Bryant Stith) in the Southeast Regional Final. It was Higgins' 2nd highest point total for his Wolverine career behind 32 against Duke the following year. The next game was a Big Ten battle in the Final Four vs Illinois. The two teams had had two knock down-drag out fights during the regular season and now they would have an epic battle in Seattle. After 33 lead changes; Higgins grabbed a 3-point miss and drained a short jumper for the game winner. Glen Rice picked off Steven Bardo's inbound pass to end the game. In the National Final, it was Higgins' teammates time to shine and it was Terry Mills first with a turn-around 11-footer to cut Seton Hall's lead to 79-78 in OT, and then on a conterverisonal foul called on Gerald Green, Rumeal Robinson hit two free throws for the win. Higgins finished with 10 points and 9 rebounds in the Championship win.
Although you do have to dig; there are Los Angeles connections in the 1989 NCAA Tournament. It was the deepest tournament run of Stephen Thompson's college career and the ultimate highlight of Higgins'. Ater a cup of coffee in 1991-92 with Orlando and Sacramento, Thompson played 10 years combined in the CBA, ABA, Europe, and Japan. Syracuse named him to the All-Century Team and he now coaches at Oregon State as an assistant. Sean Higgins played parts of 6 NBA seasons and coached at numerous different levels of the game and is now in player development and scouting with NineStarBasketball.net.