Marc J. Spears is a distinguished writer for The Undefeated at ESPN. As a 7th grade student Spears had aspirations to become a sports writer in which he wrote a letter to San Jose Mercury sports columnist Mark Purdy insisting that he would become a sportswriter. Purdy responded back to Spears and advise him to take Typing and English classes including the school's newspaper. He enrolled at Andrew Hill High School in San Jose, California as part of the newspaper staff in which he began writing articles.
Not only Spears wrote for the newspaper; he was a standout on the basketball team under coach Dennis Fernandez in which he was a two time All League and All Region player. Spears had the honor to played in the 1990 Central Coast Section all-star game at the San Jose Civic Auditorium.
After graduating from High School in 1990, Marc Spears took his talents to Foothills College in Los Altos Hills, California which he played from 1990-92. He was a contributor to the basketball program and they won the Coast Conference championship in 1992. At Foothills he wrote numerous articles for schools newspaper call the Sentinel. Also in 1992 he completed the Minority Transfer program at the college. Later in June 2007, Spears became the keynote speaker At Foothills College in which he earned his Associates of Art Degree in General Studies- Social Science.
In 1992, Spears earned a full basketball scholarship to the University of District Columbia in Washington DC. After a year at the University of District Columbia, he transfer back to his native hometown of San Jose to attend San Jose State University. He turn down other basketball scholarships to be in the print journalism program and to write on the Spartan Daily newspaper for the university. Also to play for the basketball team as a non-scholarship player. He never have the opportunity to play due to a seriously injury in which he blew out his knee which ended his playing career. He focused on his studies at San Jose State and earned his bachelor's degree in print journalism from San Jose State University in 1995 and as astonishing this sounds this is just one of the very many accomplishments.
In 1993, Marc J. Spears became a member of the National Association Of Black Journalist. He serves as the Vice-President of Print with the Sports Task Force. Playing a role in setting up the NABJ Sports Task Force's annual scholarship party. He landed a major internship in 1994 from the National Association Of Black Journalist working for the Grand Rapids Press and also wrote on the first-ever UNITY Paper that year, which opened a lot of doors.
Spears first journalism job started at the Tulsa World in Oklahoma back on April 26, 1996. Marc was covering the University of Arkansas football and basketball team. He worked alongside with copyeditor name Bob Colvin in gives credit to him for his growth in writing.
Spears had the pleasure of cover former Arkansas Basketball Head Coach Nolan Richardson. At the time he was the only black sports reporter and especially no female journalist. It meant a lot to Coach Richardson in which it was the start to a great relationship. Richardson shared with Spears about the challenges of being a head coach at the University of Arkansas. Spears and Richardson had that connection in which he can share to him privately about the trails and tribulation during his time at Arkansas. To this day they keep in contact with each other and Nolan Richardson is proud of what Spears have done.
Spears move on from the Tulsa World newspaper to become a Beat Writer for the Los Angeles Daily News from 1997-98. He covered the Los Angeles Dodgers and Anaheim Angels of Major League Baseball along with Cal State Northridge athletics.
From 1998-99 he moved on to be a general assignment reporter for The Courier-Journal in Louisville, Kentucky. He cover all levels of sports from Louisville basketball and football. Also did a story on a Kentucky football player who tragically died, volleyball, minor league baseball and various sports. He followed Mark McGwire as he broke the home run record in 1998. Also, he got to cover Muhammad Ali when he was honored as Kentucky's Athlete of the Century on February 25, 2000 which was a key highlight of Spears time with the Courier-Journal.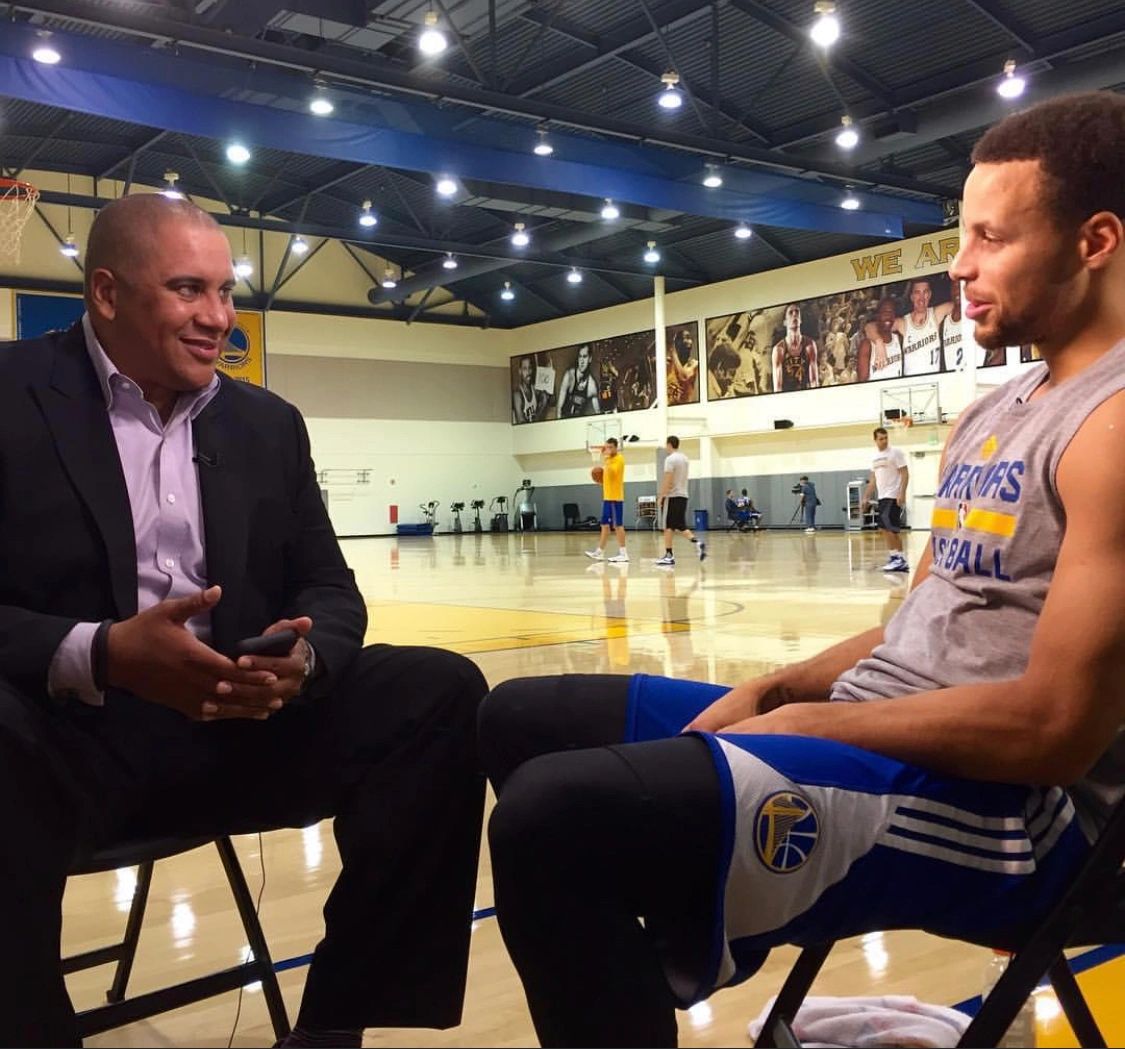 In 1999, he became a writer for the Denver Nuggets and the NBA for the Denver Post. Not only he cover the Nuggets he cover NBA All Star Weekend and the Finals. During his tenure had a weekly NBA radio show in Denver called "Roundball Rap" with Hall of Famer Dan Issel and former NBA player Popeye Jones. He travel with the Nuggets when they visit the military bases in Europe in 2002.
After spending eight years with The Denver Post he went to work for The Boston Globe as writer for the Boston Celtics and NBA from 2007-09. During that time the Celtics won the 2008 NBA championship, this was a very special accomplishment because not only did he see players such as Ray Allen, Paul Pierce, Kevin Garnett, Kendrick Perkins and head coach Doc Rivers; Marc was also able to cover the 2008 Beijing Olympics that won the gold medal.
Then Spears became a National NBA Reporter for Yahoo Sports in 2009. He broke numerous stories while covering the NBA and USA Basketball. He did interviews with NBA superstar players such as Stephen Curry, Kevin Durant, Carmelo Anthony, and some of the best players in the league.
Then on March 18, 2016 ESPN Senior Vice President and Editor-in-Chief Kevin Merida hire Marc Spears at The Undefeated as a Senior NBA Writer. Some of his most notable stories of how black NBA players have welcome to play in Utah and Boston. NBA legend Dirk Nowitzki interracial marriage and and Stephon Marbury who found stardom in China. Authored an exclusive player diary series by Draymond Green that captured his thoughts on and off the court during the 2016 NBA Finals.
He also did authors on NBA Fathers of African American players, As Real As It Gets, and other features. In addition, he contributes to other ESPN platforms such as Outside The Lines, E:60, SportsCenter, SC Featured, The Jump, and ESPN radio programs.
Marc Spears is a co-producer along with Paul Lisy in a documentary film titled Katria Cop In The Superdome back in October of 2010. The film followed a black member of the New Orleans Police Department and assorted other New Orleans residents during their stay in the Louisiana Superdome during and after Hurricane Katrina struck New Orleans in 2005.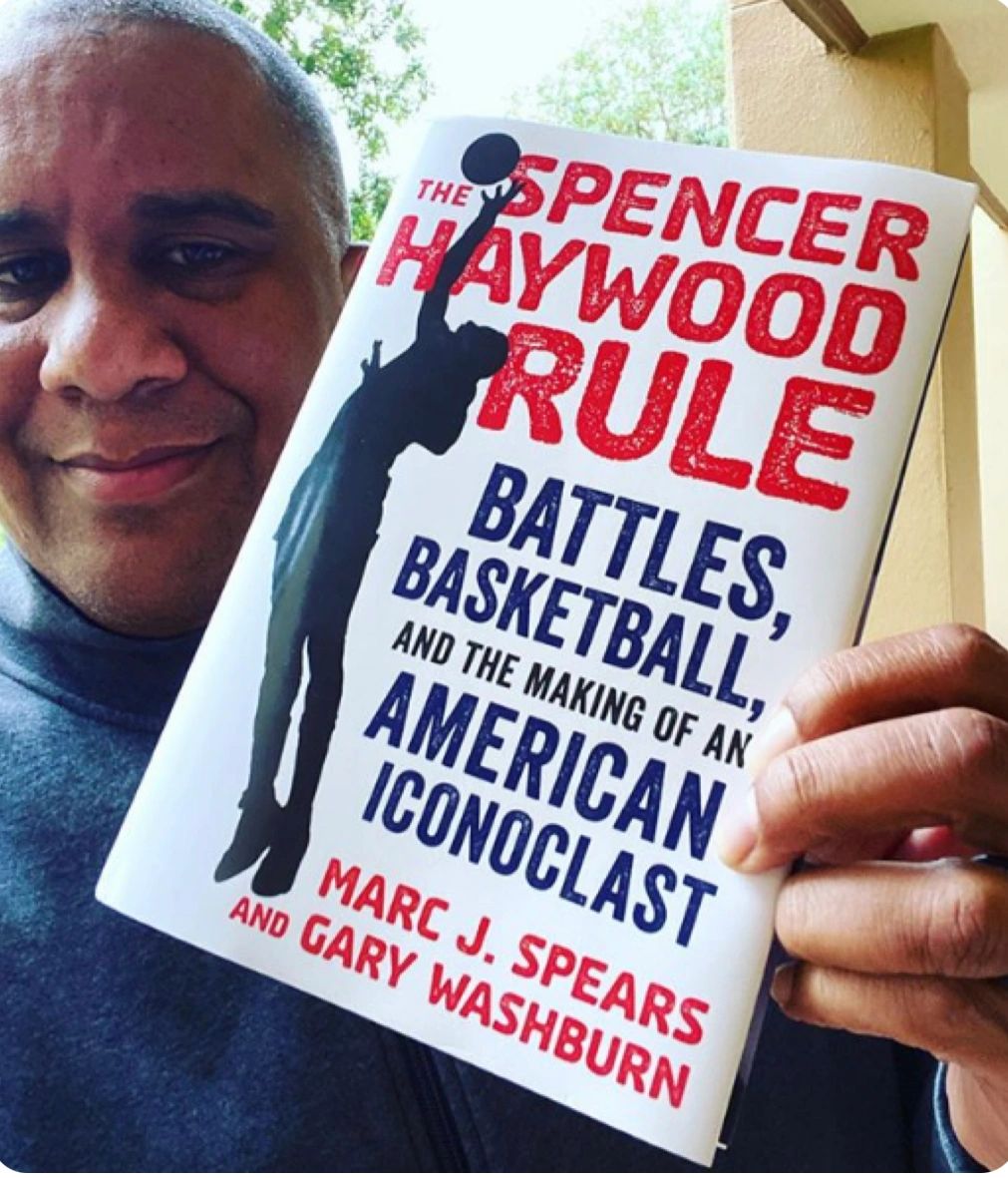 Spears became the Co-Author along with Gary Washburn of a book call "The Spencer Haywood Rule: Battles, Basketballs, and the making of American Iconoclast." The book entails a young man who came ​from picking cotton in rural Mississippi to play in the historic 1968 Olympics. Also name the ABA MVP to battle with the NBA that would go all the way to the Supreme Court and change the league forever. Spencer Haywood's life has been a feature of 20th-century sports and culture​.​ He would go on to be the ABA Rookie of the Year and MVP in the same season. However his triumphs on the court is only part of the legend.
His winding journey off the court saw him challenge the NBA's draft-entry rules and win at the Supreme Court level run in New York City high-fashion circles in the mid-70s. With his ex-wife supermodel Iman he struggle with alcohol and drug addiction during the Lakers dynasty. Spears and Washburn did so excellent on the book that is rated 4.6 out of 5 on 81 global ratings.
Marc J. Spears completed his graduate program at Louisiana State University in Baton Rouge, earning his masters degree in sports business management on May 11, 2019. Spears has won numerous awards in journalism which includes a Top 10 listing in the 2019 Associated Press Sports Editors.
Spears have covered 21 consecutive NBA All Star weekend events and the NBA Finals. During his journalism career he has cover the World Championships of Basketball, the NCAA Tournament, Women's Final Four and Rose Bowl.
During his writing career Spears have traveled to do features in China, Sweden, Italy, Bosnia-Herzegovina, Turkey, Mexico and Canada. He has been on the Dan Patrick Show, First Take, SportsCenter, and various sports talk shows about the NBA.
Marc Spears worked his someone to look up to as an inspiring writer. He started his walk through small cities and work his way up to where he is today. His passion for writing open doors for him as a producer, an author, and speaking on the top sports talk shows discussing topics about the NBA. Look for Marc J. Spears to continue to climb up the ladder in the sports media outlets.