Ranking the Best in High School Hoops Across the Board
1. Chet Holmgren – 7-1, 195 – Minnehaha Academy, Minneapolis, MN – Class of 2021 – Undeclared
Strong on the defensive end and able to guard anyone on the floor. Shot-blocking ability is probably his overall best attribute and is in-line with best at any level. Offensively, think Dirk Nowitzki, he can stretch the floor and shoot from all over. One area of improvement that all the scouts mention is his need to add muscle to his 7-1, 195 frame and at least get over two bills. Chet is set to announce his college decision this week according to Grassroots Hoops after dropping 18 points, 8 boards, 5 assists, 4 blocks, and 3 steals for Minnehaha Academy in a nationally televised trouncing of in-state Stewartville, 87-63 on ESPNU Monday. He has not revealed his short list, but Gonzaga seems to be a top landing spot according to different recruiting sites. The G-league is also an option much like two top recruits, Jalen Green and Jonathan Kuminga selected last year.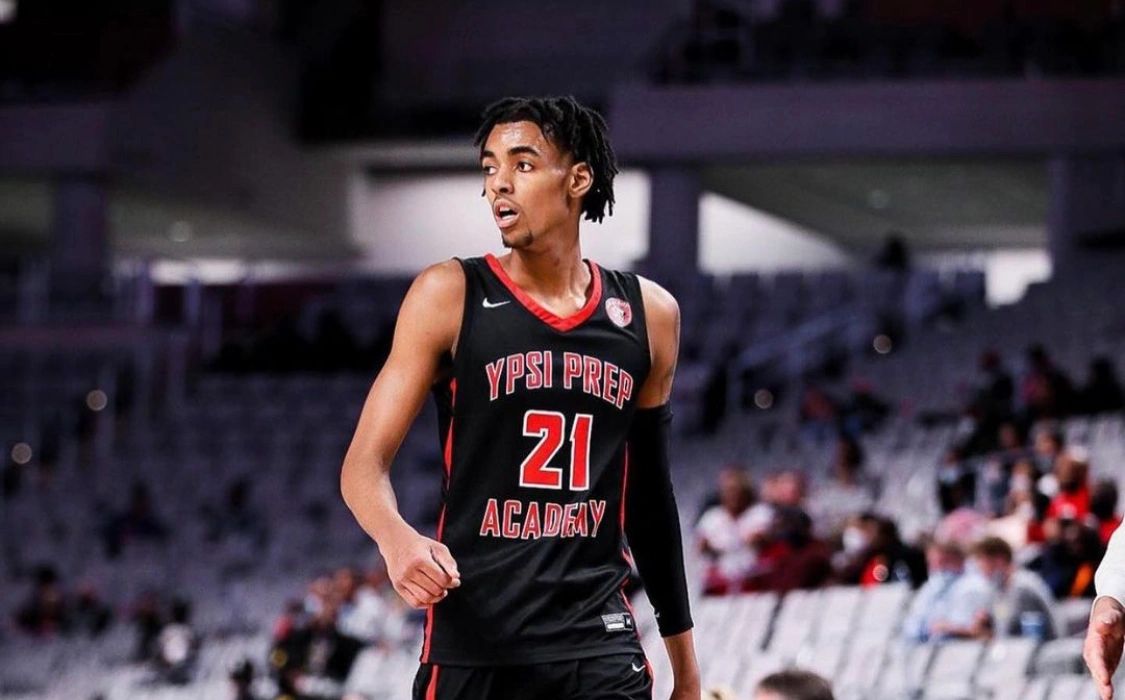 2. Emoni Bates – 6-8, 200 – Ypsi Prep Academy, Ypsilanti, MI – Class of 2022 – Committed to Michigan State
The first sophomore ever to win the Gatorade National Boys Basketball Player of the Year award in 2020 with 32.3 points, 9 boards, 3 assists and 2.1 steals per game. Bates is the consensus #1 pick for the 2023 NBA Draft and has every box checked in every athletic ability category including unlimited shot range including mid-range, purposeful ball handling, and outstanding range on defense. He has pro-polish that reminds most everyone that sees him play as a legitimate Kevin Durant clone, with the confidence to match. He may re-classify at some point this year and play for Tom Izzo and the Spartans next year and go pro then in 2022, stay tuned.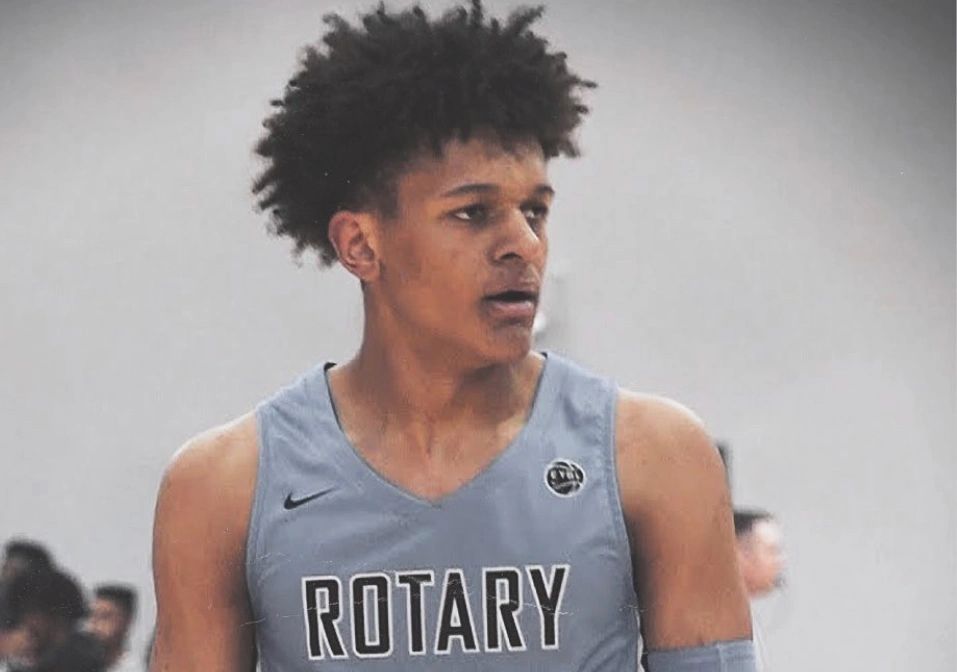 3. Paolo Banchero – 6-9, 225 – O'Dea High School, Seattle WA – Class of 2021 – Committed to Duke
Banchero has an NBA Power Forward build with Point Forward ability. He may be closer to 235 currently and could remind Duke fans of a young Jabari Parker with better vision. At the Pangos All American Festival in Arizona last year, Paolo more than held his own against the top players in the country for the 2nd year in a row, showing off an ability to rebound and finish in any traffic. This recently-declared dual citizen of Italy and the US certainly will remind everyone of a Grown Man!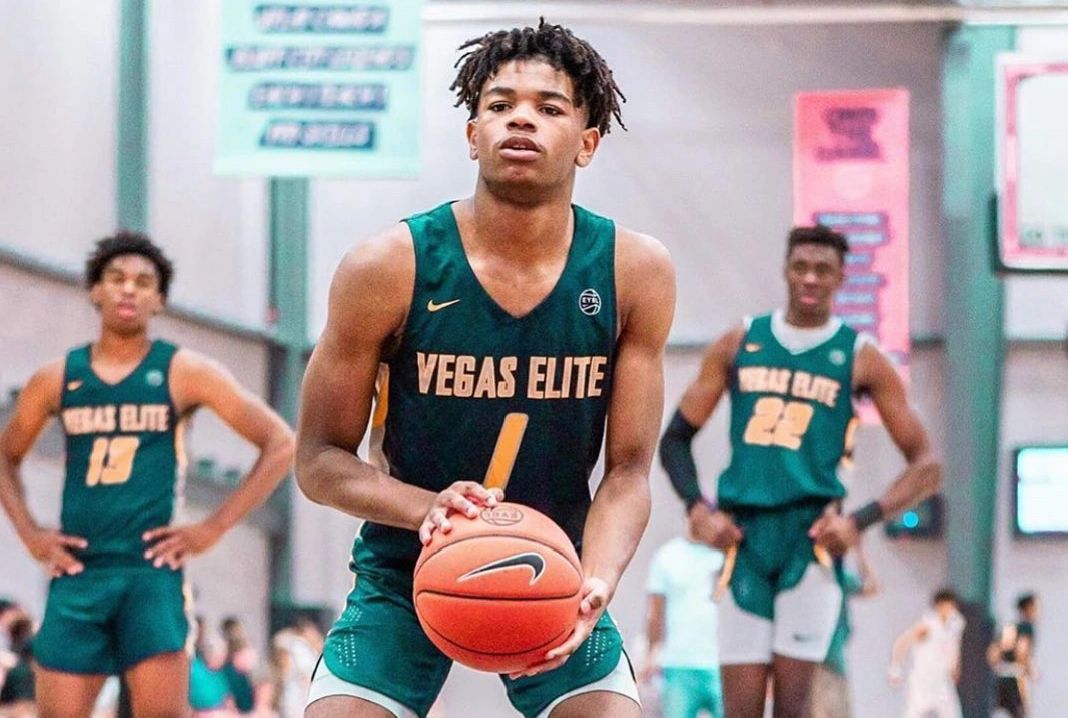 4. Jaden Hardy – 6-4, 185 – Coronado High School, Henderson, NV – Class of 2021 – Undeclared
High school is officially over for prep's top SG as Jaden Hardy's Coronado High team shut down their season. The combo guard is now left to sort out where to play next, maybe for UK and John Calipari, who just visited him on January 26th, or UCLA, Arizona, Arizona State, or Georgetown (rounding out his top-5). He may just skip college and go pro, which experts put at 50/50. As an off guard, he can also handle the ball at any time and is a playmaker. He may mesh more as an off-the-ball scorer instead of a primary ball handler, a la Malik Beasley.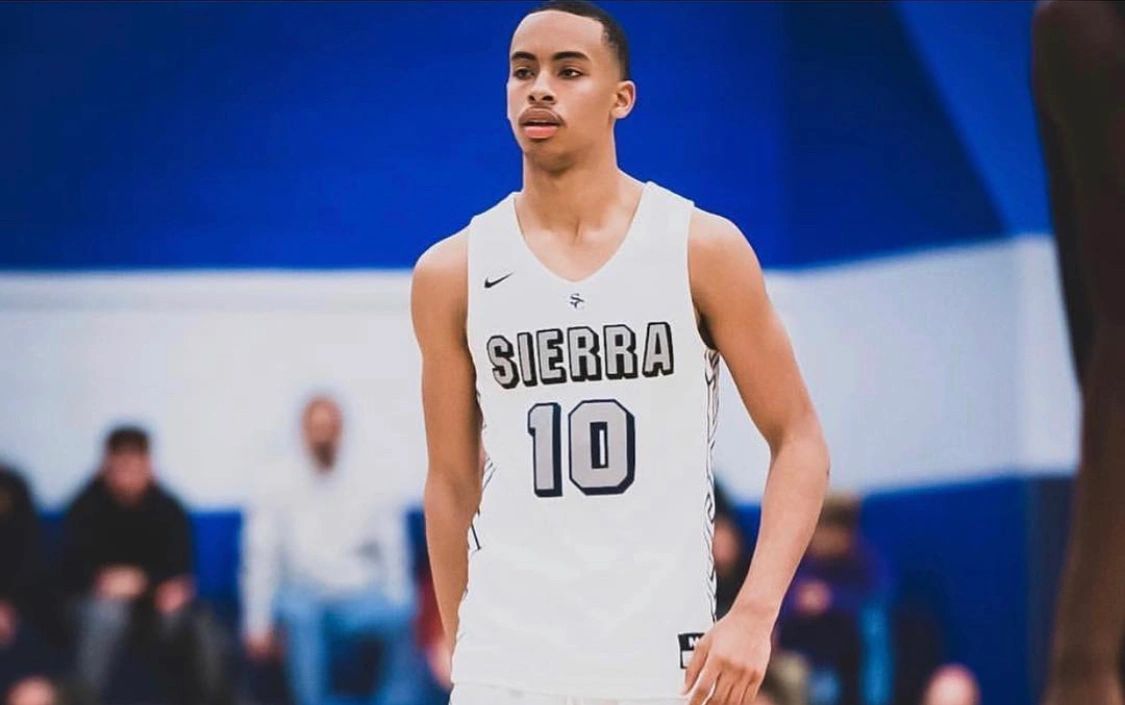 5. Amari Bailey – 6-4, 185 – Sierra Canyon High School, Chatsworth, CA – Class of 2022 – Committed to UCLA
The cream of the LA crop, Sierra Canyon's Amari Bailey verbally committed to DePaul in 8th grade and then to UCLA as a 15 yr old after a dominant freshman year that included a State title. The now-junior then de-committed and re-opened the Bailey sweepstakes and then on Wednesday night, re-committed to UCLA. Sierra Canyon has recently been home to every one's kids including Scottie Pippen, Dwayne Wade, and most famously, LeBron James, but Bailey's game stands out above the rest with strength, athleticism, and game management. He has added muscle to his frame and has a nose for the ball much like HIS dad Aaron Bailey did as a slot receiver and kick returner with the Indianapolis Colts in the 1990's.
6. Jalen Duran – 6-10, 225 – Montverde Academy, Philadelphia, PA – Class of 2022 – Undeclared
Montverde Academy pulled in another star, this time it is Jaylen Duran. Duran starred at Roman Catholic High School for his freshman and sophomore year, leading them to a Philadelphia Catholic League title in the former and averaged 18.1 points, 12.5 rebounds, and 3.4 blocks per game in the latter. Now the academy that produced Joel Embiid and Precious Achiuwa has the top center in the Class of 2022. Duran is an explosive leaper with real back-to-the-basket center ability. His game has a Dwight Howard-feel.
7. Patrick Baldwin – 6-10, 225 – Hamilton High School, Sussex WI – Class of 2021 – Undeclared
In the Village of Sussex just outside of Milwaukee, Wisconsin, a real-life national recruiting battle is underway for sharp-shooting Patrick Baldwin. Coach Mike Krzyzewski is trying to add him to a class that already includes Palo Banchero and A.J. Griffin. Patrick's father, Patrick Baldwin Sr, also has a say in the process and is the head coach at UW-Milwaukee. Wherever Baldwin ends up, that team will be getting a leader on the floor with comparisons you could draw to Klay Thompson depending on his acceleration of his overall offensive game and not just being a spot up shooter.
8. D.J. Wagner – 6-3, 175 – Camden High School, Camden, NJ – Class of 2023 – Undeclared
Tradition abounds at Camden High School in New Jersey. D.J. Wagner is of the royal Camden guard tree(with castle included until this year) that produced Louisville legend and D.J. 's grandfather Milt Wagner and father Dajuan, who once dropped a 100-piece on Camden County Tech. D.J. could follow his father's footsteps to one-and-done land. His dad recently described his game to Slam Magazine as "Team player first,…aggressive, he has a little bit of everything in him." D.J.does not get caught up in the hype and stays off social media and stays grounded in Camden. He could make the Wagners the first family ever to have three consecutive generations of All-Americans.
9. Jabari Smith – 6-9, 205 – Sandy Creek High School, Tyrone, GA – Class of 2021 – Committed to Auburn
War Eagle has landed their highest-ranked recruit in Auburn men's basketball history. Jabari Smith is an active, long wing forward and should mix well with Bruce Pearl's coaching style as Jabari himself commented to Travis Barnham of 247Sports, "They play very free." "I think they're a very good defensive team, so I think that will bring out the defensive part of my game that people don't really see." His game resembles Bobby Portis' with a slightly better handle.
10. Caleb Houstan – 6-8, 200 – Montverde Academy, Montverde, FL – Class of 2021 – Committed to Michigan
The Canadian Pipeline has continued flow with Montverde Academy's Caleb Houstan. The 6-8 Forward already has international tournament experience with Team Canada, including a 2019 U16 Americas Championship Finals appearance versus Team USA. He was the 2nd-leading scorer in the tournament at 22.8 per and scored 25 points in the final. After starring as Cade Cunningham's wing man last year, he reclassified into the Class of 2021. As a 3-point sniper with size, Juwan Howard and Michigan will get a player that can space the floor and kill zones, much like Nicholas Batum.
11. Michael Foster – 6-8, 215 – Hillcrest Prep, Milwaukee, WI – Class of 2021 – Undeclared
Along with Palo Banchero, Hillcrest Prep's Michael Foster is one of the top NBA-ready players on this list. Hillcrest's recruiting coordinator Nick Weaver echoes those thoughts, "Mike already has a pro mindset." Weaver also added, "Whether he decides to go to college or pro, he will be successful wherever he goes, because he is the hardest worker I ever had the pleasure to be around." Weaver has been around much talent including his former recruit and 2018 NBA #1 Pick, Deandre Ayton. Tough is the word that follows Foster around the most and has a Metta Sandiford-Artest-game.
12. Mousa Diabate – 6-9, 215 – IMG Academy, Bradenton, FL – Class of 2021 – Committed to Michigan
Paris, France product Mousa Diabate will take his talents to Michigan. Juwan Howard will have all sorts of size and agility in Ann Arbor next year, as Diabate will team with Caleb Houstan to form the #1-ranked recruiting class in the nation according to Jeff Borzello and Adam Finkelstein of ESPN. Diabate's defense is currently ahead of his offense and he is a legitimate shot blocker. He can be a playmaker, but should contribute more as a defender and rebounder. Right now his game looks like Thon Maker's.
13. Jalen Lewis – 6-8, 220 – Bishop O'Dowd High School, Oakland, CA – Class of 2023 – Undeclared
Don't adjust the screen, Oakland product Jalen Lewis is 6-8 and 220 pounds as a Sophomore in high school. The beast of the Class of 2023, Lewis is still growing. He has post skills already and can run the floor. Last summer he trained with Bishop O'Dowd alum Ivan Rabb and Jabari Bird. He stated, "It was a good experience for sure. They taught me a lot. Mainly what a good work ethic looks like because they all work their hardest at all times." Lewis' game already shows slivers of another Oakland-born baller, Antonio Davis.
14. Kennedy Chandler – 6-1, 170 – Sunrise Christian Academy, Memphis, TN – Class of 2021 – Committed to Tennessee
As the first true point guard on this list, Kennedy Chandler plays bigger than his 6-1, 170 frame with surprising rebounding skills. Rick Barnes and Tennessee are ready to team him with Guard Josiah-Jordan James, who currently ranks 13th in the SEC with 6 boards a game. He does not have the flash of a LeMelo Ball, but is a solid on-ball defender and can create his own shot off the dribble a la Cole Anthony.
15. Brandon Huntley-Hatfield – 6-9, 215 – Scotland Campus Prep, Clarksville, TN – Class of 2022 – Undeclared
Whether it ends up being College or the NBA for Brandon Huntley-Hatifield, he is ready for either. In a recent interview with Mike Curtis of syracuse.com, he describes his versatility as the following, "I feel like I'm interchangeable. I'm not slow at all. I can move really well. I can be a ball handler in the pick-and-roll and I can be the big in the pick-and-roll." After showing out at the IMG Academy and USA camps, Huntley-Hatifield has Ole Miss and Syracuse on his college short list. Tobias Harris would be a good NBA comparison.
16. Matt Bewley – 6-9, 200 – West Oaks Academy, Fort Lauderdale, FL – Class of 2023 – Undeclared
Northeast Miami has twins! Matt Bewley is one half of the highest-rated players in Southeast Florida, the other half is his twin brother Ryan. "It is a great feeling knowing that I have someone in my house pushing me everyday." said Matt. "We keep each other grounded and humbled to work hard and not lose our place." Matt has size and is also a fluid ballhander that can run the point if necessary. To keep the twin theme, Matt could grow into a Horace Grant-type player.
17. Nate Bittle – 6-11, 205 – Prolific Prep – Central Point, OR – Class of 2021 – Committed to Oregon
Straight from the tall trees of Oregon comes 7-footish Nate Bittle. Nate has a 3-point game and hook shot to compete with today's elite centers offensively, but needs to add strength to bang down low with them. During his sophomore campaign with Crater High, Nate put up 21.3 pts, 8.5 rbs, and 4.5 blocks per game. He has blocked 10 shots twice in 2019 and 2020 state tournament games. He is staying home and going to Oregon and his game looks like former Duck and current Toronto Raptor Chris Boucher.
18. JD Davidson – 6-2, 185 – Calhoun High School, Letohatchee, AL – Class of 2021 – Committed to Alabama
130 miles Southeast from Tuscaloosa sits Calhoun High in rural Letohatchee Alabama. JD Davidson will take that ride up Highway 82 to attend Alabama next year. Davidson has the game and the hair to draw comparisons to former Roll Tide and current Cleveland Cavalier, Collin Sexton. He may actually be a better overall passer than Sexton. If it is either his hops or his hair, JD has been labeled as ballislife.com as having the "most bounce in high school."
19. Peyton Watson – 6-7, 185 – Long Beach Polytechnic High School, Long Beach, CA – Class of 2021 – Committed to UCLA
Much like Snoop, Carl Weathers, and Nate Dogg, Peyton Watson is setting his mark at Long Beach Poly. No private school in the canyon for Watson, who is a slasher who can jump out of the gym. After his bust out 30-point effort against current ASU baller Josh Christopher and Mayfair, Watson said "I wanna show people that you don't have to go the route of going to a prep school." Next year at UCLA, he will be a perfect alley-oop partner for PG Tyger Cambell. He has the motor of Darius Bazley.
20. Baye Fall – 6-11, 217 – Lutheran High School, Denver, CO – Class of 2023 – Undeclared
The intensity of the recruiting of Baye Fall is only accelerating. Colorado's #1 prospect is a long way from his Dakur home and may never see the college court, but he is staying grounded. He told the Denver Post last year that "There's a lot of opportunities coming–scholarships and everything–but I'm not trying to use basketball to be someone in life. I'm doing it for fun for now because I don't know where the game is going to take me. I'm focusing on my studies and hopefully that will lead me to something great one day." He jumps like a guard and already has the pick-and-roll game down much like Bam Adebayo.
21. Hunter Sallis – 6-3, 175 – Millard North High School, Omaha, NE – Class of 2021 – Undeclared
Having already made the SportsCenter Top 10 list last December with a steal and a full swing windmill dunk, Millard North High Guard Hunter Sallis is already a celebrity in Nebraska. Sallis will announce his college decision March 26th and 247 analyst Travis Branham is predicting a Gonzaga choice. Kentucky is also in the running. Whoever gets Sallis will get an active rebounder that can play both guard spots with ease. He averaged 22.2 pts, 4.6 rbs, and 3.8 assists per game last year, leading Millard North to the Nebraska state title game. He
has Donte DiVincenzo's rebounding and driving ability.
22. Chris Livingston – 6-6, 195 – Akron Buchtel High School, Akron, OH – Class of 2022 – Undeclared
LeBron James casts an all-encompassing shadow in Akron, Ohio and Akron Buchtel's Chris Livingston has stepped right into it. His twin brother Cordell knows how he feels. Chris and the USA dominated the 2019 FIBA U16 Americas championship, including 23 points, 6 rebounds, and 2 assists in the finals against Canada and Michigan recruit Caleb Houstan. He walked away with MVP honors. The big wing is now preparing to lead his City Champion high school team to a possible state title. Unfair comparisons to LeBron aside, Livingston has outstanding driving ability complete with a spin move and could give any college or pro team a lock-down defender. He is more likely to be Andrew Wiggins than LBJ.
23. A.J. Griffin – 6-7, 220 – Archbishop Stepinac High School, White Plains, NY – Class of 2021 – Committed to Duke
White Plains, NY prodigy A.J. Griffin battled back from a dislocated left knee last year and his coach at Archbishop Stepinac recently broke down his game for SlamOnline and said A.J. has "elite athleticism, can shoot it really well as well as a joy to coach…he rebounds at a high level, he blocks shots, he finishes above the rim." He will be with Coach K and Duke along with Top 3 recruit Paolo Banchero. They could drum-up some Zion and R.J. Barrett talk with Griffin playing the R.J. role.
24. Mikey Williams – 6-2, 185 – Lake Norman Christian, Charlotte, NC – Class of 2023 – Undeclared
Flying under the radar this guy ain't; Mikey Williams has already created a rep for himself that includes dropping 77 points on Kearny High as a freshman for San Ysidro High, playing on the elite AAU team, Compton Magic, and most recently scoring 26 points in a win for Lake Norman Christian in Charlotte, NC in front of rap superstar DaBaby last month. He said in his own short documentary on Overtime that "I'm the best player in high school basketball." That is debatable, but his intensity and multi-level scoring are not. One could see Victor Oladipo through the hype.
25. Dariq Whitehead – 6-6, 190 – Montverde Academy, Montverde, FL – Class of 2022 – Undeclared
Many recruits Class of 2022 and under are waiting to see if the NBA's one-and-done rule is scrapped before they are seniors in high school. Among those recruits is Newark, New Jersey's Dariq Whitehead. Whitehead currently plays for Montverde Academy in almost complete anonymity due to his star teammates Jalen Duren and Caleb Houstan, but since his brother Tariq is an NFL Linebacker for the Carolina Panthers, Dariq can let others shine. His coach Kevin Boyle is excited about his maturation, "He's matured a lot each year," Boyle told Seth Soffian at the Zagsblog, "He's just grown up each year. He's becoming more and more humble, more and more coachable and more and more disciplined. He attacks the rim and has a quick-fire jumper much like Jordan Clarkson.